Celebrating the Life of Our Dear Friend Ray Ortega in One of His Favorite Places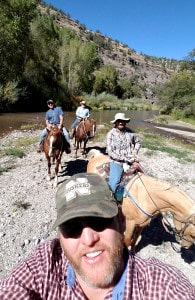 The ACT family suffered a heartbreaking loss earlier this year with the passing of Ray Ortega, our Albuquerque Branch Manager.
This past weekend, ACT folks got together with Ray's family in one of his favorite places, the Gila National Forest in Western New Mexico. In addition to being the sixth-largest National Forest in the continental U.S., it is home to the famous Gila Cliff Dwellings National Monument.
Knowing how much Ray loved to spend time there, ACT contributed to the planting of future generations of trees in this majestic forest. Zane Gentzler, an account manager from our Albuquerque branch, and Ray's brother Danny are pictured holding commemorative plaques, one of which is displayed in our Albuquerque branch office. Zane and Ray were as close as brothers all the way from growing up together in El Paso, TX to rooming together at the University of New Mexico to working side-by-side at ACT.
The gathered group took a short hike on Saturday morning to the cliff before gathering for lunch. As great as was great to have everyone together, Ray's smile and good-natured laughter were missed.
Zane took a smaller crew on an afternoon horse ride up the middle fork and east fork of the Gila River for about 10 miles. Over lots of water crossings to train the horses, they reminisced with stories about trips with Ray over the years.
Said Zane of the day, "Weather was perfect, Ray was in our hearts and shining down the entire trip."
Our CEO Walter Singer, who is pictured with Ray's brother Danny in one of the cliff dwellings, put it best: "Thanks for everything, Ray."